Edited by Jon Harari.
The Public Relations and Business Marketing course instructed by Professor Jon Harari at Baruch College this semester focuses on how to build and manage online reputation. On Monday, September 28, 2015, Olya Moskalenko, Senior Writer & Campaign Strategist for the Business Development team at Rubenstein Public Relations, was invited to guest speak on the topic and share her experience with the class.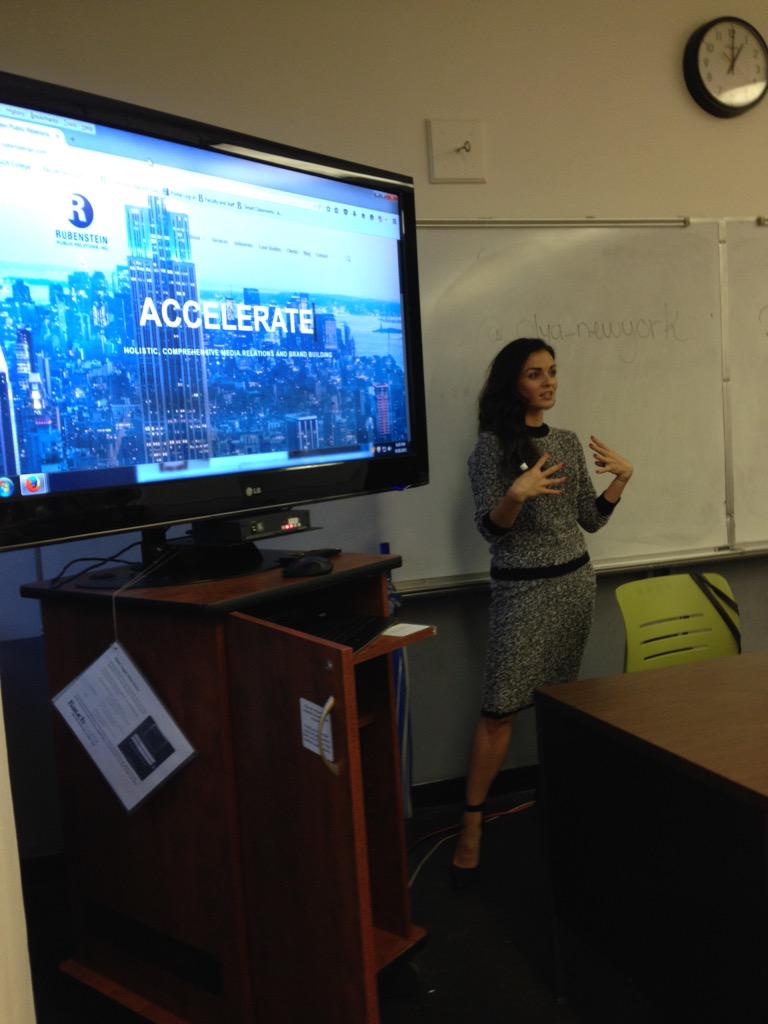 Starting the conversation by telling us about her background, Ms. Moskalenko highlighted her expertise as it relates to reputation management and crisis communications. With over six years of experience working with multinational corporations and conglomerates, as well as world leaders, politicians, celebrities, socialites and other influencers, Ms. Moskalenko offered a wide array of perspectives on the increasing importance of online reputation management in our digital era.
Ms. Moskalenko noted that the higher an individual's or brand's profile the more important it is that they have a PR professional/team helping them manage their image and being proactive with media and online dialogue.
Success is all about perception. Helping to shape a brand and build a positive online perception through a strong public relations program is vital for a brand's vitality. As individuals, we are now brands unto ourselves. The lines have blurred from an individual online persona to that of a professional one. You can't compartmentalize any longer as the internet has made transparent whatever was once opaque. All behavior and action shapes perception, and it is crucial for all of us to be conscientious and meticulous about how we come across, especially online.
With social media, popularity has grown to become a paramount term in today's society with credibility stemming from likes, number of views, shares, ratings and reviews. Further, search engine optimization is crucial to the success of any individual or business because regardless how amazing a brand is, a scandal or negative reports can completely discredit and stunt its mission and business objectives.
Ms. Moskalenko also went on to emphasize the importance of being responsible when making a mistake and rectifying it instead of deleting or denying the event.
The following are Ms. Moskalenko's key recommendations when managing a crisis:
Gather all relevant data and analyze the situation
Select a spokesperson to administer all communications
Never say "no comment" as it creates more controversy and its implications equate to dishonesty
Use the 3 fundamentals R's when developing a response: 1. Recognize: Take accountability and acknowledge the issue at hand; 2. Regret: Apologize and show remorse; 3. Remedy: Provide a solution and take action to right the wrong
Ms. Moskalenko concluded her talk with a discussion of her own experience in the world of PR, stating that she likes to represent her city and company, showing great passion for her work not just at Rubenstein Public Relations, but also in New York City. She mentions that in order to succeed in managing your reputation you must be culturally sensitive while keeping morals and ethics in check. Olya showed a lot of enthusiasm in relation to her career, accomplishments and day to day work. She can be found on both Twitter and Instagram: @olya_newyork.
She has a unique international background. Ms. Moskalenko's career in communications spans across the globe from North America and Europe to the Middle East, working with some of the worlds most recognizable brands including Formula 1 Grand Prix, MTV, SONY, Virgin, EMI, Apple, Phillips, among many others.
Written by Frederick Brien, Cheng Yu Cho, and Andrea Cruz, students in Jon Harari's class.
Frederick Brien is in his final semester at Baruch College studying business management. Mr Brien previously studied a Bachelors degree majoring in finance and accounting from Bond University, Australia.
Andrea Cruz has a bachelor degree in Hospitality Business Administration. Currently student at Baruch College and intern at The Executive Hotel Le Soleil.